Analyze Your Data in Real-Time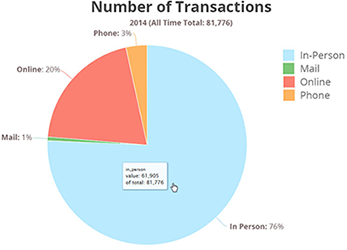 PaymentExpress provides an extremely flexible, powerful interface for analyzing data through real-time customized reports across all areas of the system. You can build any needed report, choosing your own customized selection criteria and presentation options. These reports can be used for a wide range of purposes, from low-level data extraction to high-level statistical reports to workflow management.
Monitor Key Metrics Over Time
PaymentExpress allows you to analyze and monitor payment trends over time.
Key metrics include:
Transactions
Dollar Volume
Average Payment
E-check Returns
Chargebacks
All metrics can be granularly filtered by payment channel, tender type, department, item type, location, and card type.
Create Ad-Hoc Reports
PaymentExpress includes a web portal that offers a robust, flexible, user-driven reporting tool. In addition to standard reports that are built and run every day, week, or month, the same tool can be used to generate ad-hoc reports for unique needs as they arise. You can select a report type from a menu, and then customize the report by selecting from a list of available columns. Columns may be added, removed, and re-ordered on ad-hoc reports. Our reporting tool also lets you specify search criteria, including date ranges (using phrases such as "today", "yesterday", and "last month") and wildcards for any field, and summarize with subtotals and a grand total.
Features
Unlimited custom and saved reports
Unlimited emailed subscription reports
Flexible date search criteria, including "yesterday" and "last month"
Download Excel, CSV, or PDF files
Hundreds of data fields available in reporting
Item level detail in reporting, including on customer receipts
---
More Information
To arrange a demo of our payment processing solutions,
or call (412) 246-1371