PaymentExpress supports in-person credit card, debit, and PIN debit card transactions at any office location.
Point-of-Sale Hardware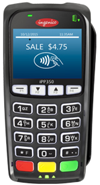 We only utilize PCI-DSS compliant hardware which provides for point-to-point encryption. Our supported PIN debit hardware models use the latest technology, are reliable, adhere to the most current PIN entry device PCI PED requirements, and are EMV compliant.
Keep Card Data Out of Your Systems and Network
PaymentExpress' point-to-point encryption encrypts card data at the point of card swipe, which prevents full card numbers from reaching both your cashiering systems and network, reduces your card data breach and risk, and potentially reduces your PCI scope.
Point-of-Sale Software
PaymentExpress is provided using the Software as a Service (SaaS) model and does not require any installed software (other than a modern web browser on desktop or mobile devices, including Google Chrome, Opera, Internet Explorer, Safari, and Firefox).
We provide a web-based point of sale application for cashiering over-the-counter payments. If possible, we will integrate with your current cashiering system to provide you and your cashiers with a seamless cashiering experience.
Permission Based Roles
This feature allows you to customize the level of access your staff members have, including: posting, voiding, refunding, reporting, blacklisting, and creating new users.
---
More Information
To arrange a demo of our payment processing solutions,
or call (412) 246-1371