April 29, 2013
Hillsborough County, Florida Selects Grant Street Group's TaxSys® Suite of Integrated Web-Based Tax Collection Services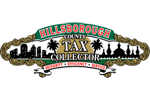 Pittsburgh, PA (April 29, 2013) – Grant Street Group, the leading provider of web-based tax collection software in Florida, announced today that the Hillsborough County Tax Collector has signed a contract for a comprehensive suite of tax collection software. This includes TaxSys®, a state-of-the-art, web-based tax collection and billing system; PaymentExpress™, a full service payment processing solution for credit cards, debit cards and e-checks; and LienAuction®, Grant Street's tax certificate auction platform.
Home to the City of Tampa, Hillsborough County is the fourth largest County in the State with a population of 1.3 million. Hillsborough will join 14 other Florida County Tax Collector Offices that have switched to TaxSys since the system was launched in 2006. With the addition of Hillsborough County, TaxSys will collect over 48% of all property taxes in the state.
"Moving to TaxSys is a strategic business decision based on extensive system requirement analysis conducted by my staff," said Doug Belden, Hillsborough County Tax Collector. "The integrated components of the TaxSys solution and the Software as a Service approach will provide consolidated efficiencies throughout our organization. These efficiencies all lead to improved customer service for the citizens of Hillsborough County – my number one priority."
The conversion to TaxSys will take place over the next 20 months, with a scheduled completion date in September 2014. The 2013 Hillsborough tax certificate sale will be conducted using Grant Street's LienAuction tax certificate platform; the first sale will be held on May 25. Grant Street's PaymentExpress services for online e-payments will begin in May 2013, followed by over-the-counter payments in mid June 2013.
"The Hillsborough County Tax Collector is a major addition to Grant Street Group's client base, and known as one of the state's pioneers pursuing performance excellence and measured results to increase efficiencies and customer service," said Ian Yorty, Grant Street Group's Director of Florida Business Development. "Hillsborough's thorough evaluation and ultimate selection of TaxSys is a further testament to the benefits of a hosted web-based tax collection and billing solution with fully integrated software for all tax collection activities, such as the tax sale, e-payments, and an array of public facing online services."
For more information, please contact Ian Yorty at (305) 710-8926 or Ian.Yorty@GrantStreet.com.
Categories: Auctions | Payment Processing | Revenue Collection