Hillsborough County, Florida Now Live on TaxSys®
July 1, 2014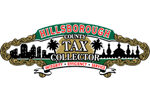 FOR IMMEDIATE RELEASE
The Hillsborough County Tax Collector's office is now live on TaxSys®, Grant Street Group's state-of-the-art, web-based tax collection and billing system and integrated suite of tax collection software. Hillsborough County is the 16th Florida Tax Collector's office to convert to TaxSys since the system was launched in 2006. The Tax Collector's office collects nearly $1.35 billion in property taxes on more than 467,000 parcels each year.
"Grant Street's focused approach and attention to detail were two of the leading factors in our decision to go with TaxSys," said Doug Belden, Hillsborough County Tax Collector. "The entire conversion team did a remarkable job working with my staff to ensure that all project milestones were accomplished on time and within budget," continued Mr. Belden.
Hillsborough County's conversion to TaxSys took 18 months, beginning in February 2013 and concluding on July 1, 2014. This included the transition to PaymentExpress®, Grant Street Group's e-payment solution, which is fully integrated with TaxSys.
"The addition of the Hillsborough County Tax Collector's office has been a key driving force in helping to enhance the overall functionality of TaxSys due to their thorough processes and strong management practices. We commend Mr. Belden and his staff for the leadership and professionalism they personified during the implementation," said Ian Yorty, Grant Street Group's Chief Business Development Officer.
For more information, please contact Ian Yorty at (305) 710-8926 or Ian.Yorty@GrantStreet.com.